Benefits and Perks
Be a part of an experienced team who have worked on some of the most popular web sites and developer tools.
Competitive salary and meaningful equity.
Medical, dental and vision insurance.
Retirement benefits.
Flexible working schedule and real work/life balance.
Unlimited vacation and personal time.
Casual work environment.
Spec your own equipment — tell us what you need and it will be ready to go when you walk in on your first day.
Spacious office space in the heart of San Francisco's SOMA neighborhood a short walk from BART or Caltrain.
Relocation assistance.
We laugh, a lot.
Open Positions
Working at Runscope means joining a team of fun, smart, collaborative people who care about quality, APIs, and building developer tools. Even if you don't see a position here that fits you perfectly, we're always interested in talking with people who love APIs. Feel free to drop us a note.
Proven Work/Life Balance
A lot of companies talk about work/life balance. Here's some data to show how we've done so far. This is a breakdown of over 10,000 commits from the past year showing when we work. Only ~6% of our commits have come on weekends, and most of those are by the co-founders: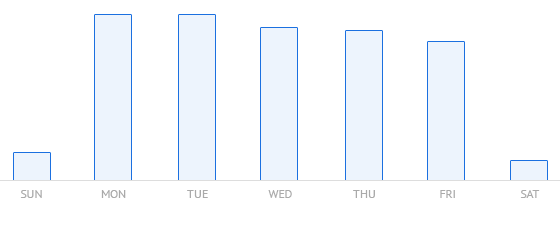 Evenings and weekends should be spent with friends and family, on hobbies or anything else outside of work. Sometimes we code off hours because the problems we're solving are fun to work on but we've maintained a regular schedule, even during big launch crunches. There have been zero all-nighters.