JSON Generator: Vazha Omanashvili's free tool for generating sample JSON for your mock APIs and API documentation samples.

API Changelog: APIs change, don't get caught off guard. Follow the APIs you rely and and get notified when their docs change.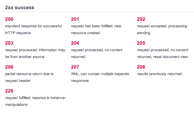 httpstatuses.com: Database of HTTP status codes with their IETF + Wikipedia descriptions and helpful code references. Maintained by @citricsquid.